Advance technology in the field of compressed air, Commitment to energy savings & efficiency.

THE COMPANY REMEZA WAS FOUNDED IN 1989. THE MAIN OBJECT: DESIGN AND PRODUCTION OF A RELIABLE, AFFORDABLE COMPRESSOR EQUIPMENT BY USING COMPONENTS OF THE BEST WORLD MANUFACTURERS.

At present wide range of compressor equipment is manufactured:

To design and manufacture compressors we use component parts from world famous manufacturers. All equipment is certified for compliance with European standards, technical regulations of the Customs Union and Ukraine.

№1
in Europe
The largest manufacturer in Eastern Europe
The equipment is certified according to CE standards. Quality management system is certified according to the TÜV & ISO 9001-2008 international standard.

Manufacturing Plant & Ranges: 2.2 KW to 315kw capacity available.
Manufacturing Plant: Germany & Belarus

User Friendly:

Remeza builds the design of its compressors by aiming high durability . Therefore, if you do not retard the cost-effective periodic maintenances, you can get high efficiency from our products and get benefit for your enterprise for a long time.

24/7 After-Sales Service:

In order not to disrupt your production, we stand by you any time , "24/7", with our experienced & Trained service staff free of cost & 100% Remeza genuine spare parts available our store for any time.

Practical Use

Microprocessor systems user-friendly control panels are equipped with high security systems which satisfy the operator. In the event of machine failure, the systems would respond accordingly & give timely indications to users of which parts requiring replacement and necessary maintenance.

Worry Free & Trouble-free Operation:

Worry- free operation built-in many safety devices. Our products are being produced in the light of experiences gained over the years and with serious R&D studies and with use of high-end materials matching each other. Probable problems are predicted at the production stage through experience and the precautions are carefully taken.

Silent:

As the screw groups used in our products are of bigger size compared with its equivalents, they operate at lower speeds. Special cowl roving (for the covers/doors) and non-flammable foam rubbers are used for sound isolation inside the cabins.

Air Flow:

Airend bigger size & Direct drive because of Air flow 5% to 8% higher from others any European brand.

Longevity:

EQUIPMENT BY USING COMPONENTS OF THE BEST WORLD MANUFACTURERS. The equipment is certified according to CE standards. Quality management system is certified according to the TÜV & ISO 9001-2008 international standard & 100% European for this reason Longevity & performance is very high & Screw Standard life time is 100,000 hours higher compare with other any brand.

ELECTRIC MOTOR

The screw stage rotates an electric motor of the Swedish-Swiss global company ABB or German SIEMENS. It has high efficiency, so you will not have to pay more than you need for energy to drive the compressor. Three-phase cage premium Efficiency electrical motors, according to IE-3 standards with IP-55 protection complies with the European Eco-design.

INVERTER

World famous Danfoss brand (Denmark) is the inverter with all the necessary elements for its proper operation:

o Torque and speed control system.
o Intermediate circuit coils that protect equipment against mains harmonics.
o Automatic Energy Optimizer (AEO), lower power consumption
o RFI filter (industrial environment) type
o 150% over torque motor, for one minute.
o Electronic thermal Motor relay (ETR) replaces the external motor protection
o Meets EU Directive Hazardous Substances in Electrical Equipment (RoHS). (It does not contain cadmium, hexavalent chromium, mercury, combustion ralentizadotes PBB and PBDE.
o They are designed according to the EU Directive on Waste Electrical and Electronic Equipment (WEEE).

BK40-BC 30kw compressor can achieve
an annual saving of up to €8,500

PROGRAMMABLE CONTROLLERS:

World leader & famous CMC brand (Belgium) Multi-functional industrial microprocessor control unit (controller AirMaster S1) is designed for the control of operation of air screw compressors. The user interface is equipped with simple and intelligible regulation buttons with the indicator highlighting. The compressor state is vividly displayed onto the liquid crystal display. In the display the symbol system is used which is supported by the text with a choice of the language.

Screw Airend:

World famous GHH RAND brand (Germany), one of the leaders in the world market of compressor industry for development and manufacturing of compressor units: are designed for the permanent continuous work up to 24 hours a day under different operation conditions; reliable asymmetric design rotor's profiles provides the maximal output capacity and efficiency, saves energy consumption at high volume flow; work lifetime up to 1,00,000 hours.

Certified & Standards: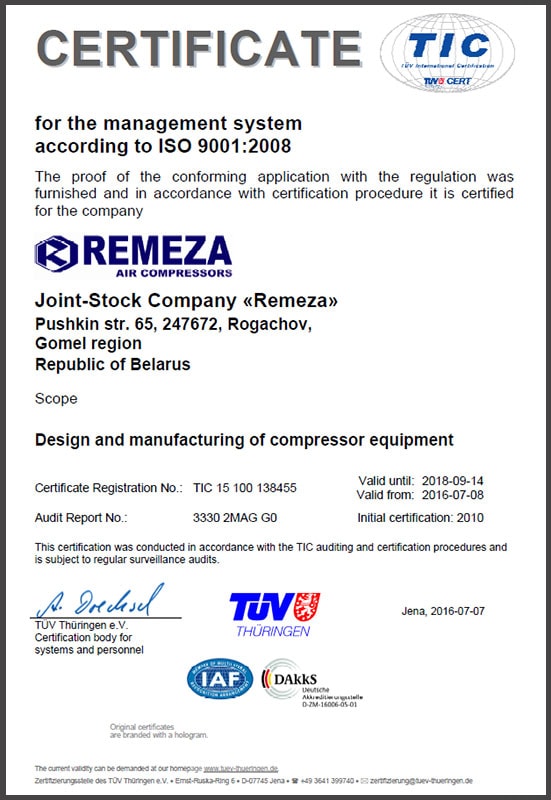 Certificate of conformity (QMS) with ISO 9001 TIC/TÜV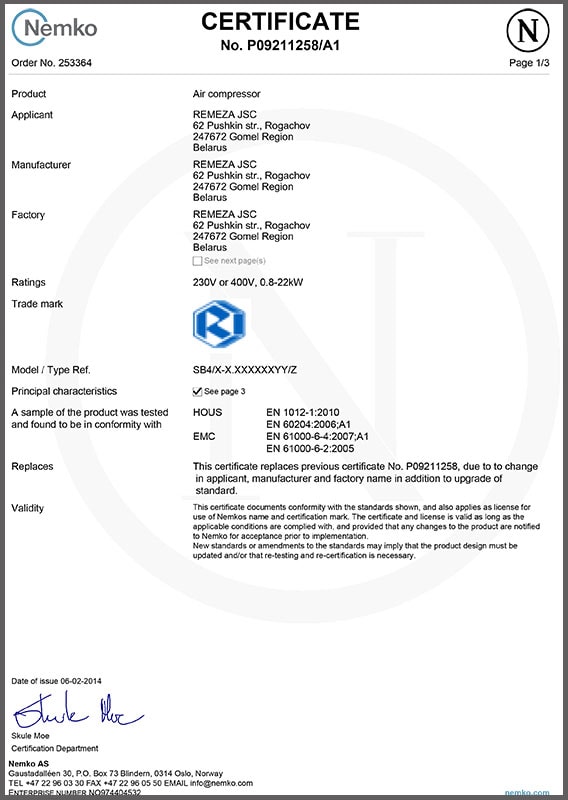 Certificates of conformity with the requirements of the European Directives-Nemko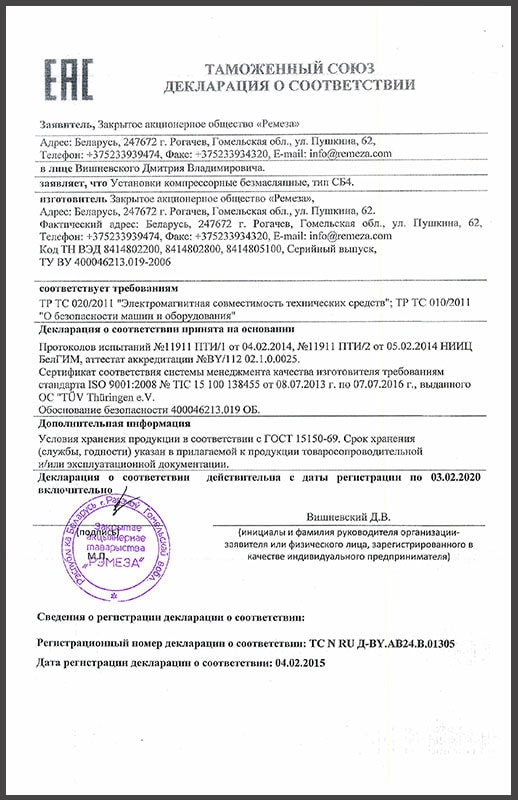 Declarations and certificates of conformity with the requirements of TR CU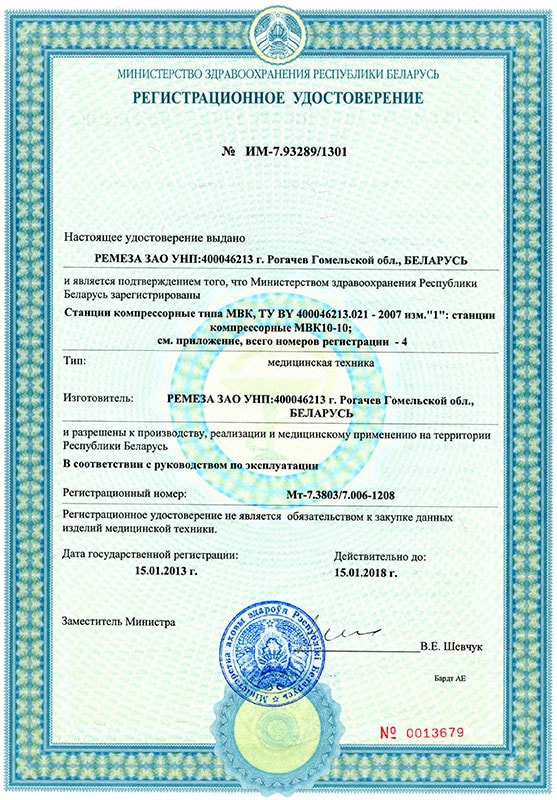 Certificates of validation of Ministry of Health of the Republic of Belarus
Get Benefit
Remeza compressor advanced Compressed air technology Improving your Compressed air Efficiency, Reduces running costs, Reduces service costs & increases safety now & for the future.

Top quality, Good price compare of any European origin Compressor.